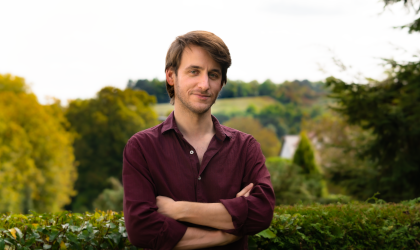 Email:
antoinek@mpi-sws.org
Email:
antoine.kaufmann@cit.tum.de
Physical Address:
Room 412, Building E1 5
Campus Saarbrücken
Mailing Address:
Antoine Kaufmann
Max Planck Institute for Software Systems
Campus E1 5
66123 Saarbrücken
Germany
News
2023-10-26: We wrapped up a successful SOSP'23, co-organizing it with many volunteers from the OS group, Vaastav presenting a paper, and Matheus and Jonas winning 1st and 3rd place in the student research competition!
2023-07-10: I am teaching the winter 2023/24 seminar/lab on Accelerating Applications with Specialized Hardware at UdS.
2023-04-05: Tejas Harith will join our group as a doctoral student.
2023-03-26: Hejing presented her ongoing work on parallelizing existing simulators at YArch'23.
2022-11-18: Bin presented our position paper on SimBricks for disaggregated systems at WORDS'22.
2022-05-07: Our SimBricks paper was accepted at SIGCOMM'22. Hejing will be presenting it in August in Amsterdam!
2022-02-21: Hejing Li joins us as a doctoral student, after her stint here as a research engineer.
2021-10-19: I am teaching the winter 2021/22 operating systems class at UdS.
2021-10-18: Artemio presented our ongoing work on networking DSA design exploration at the Cloud@MICRO workshop.
2021-10-01: I am now a tenure-track faculty member at MPI-SWS.
2021-04-30: SOSP 2021 will be virtual with a new general chair. I am staying on as treasurer and am looking forward to co-organizing SOSP 2023 in Koblenz.
2021-03-04: I will serve on the PC for ASPLOS'22.