Rupak Majumdar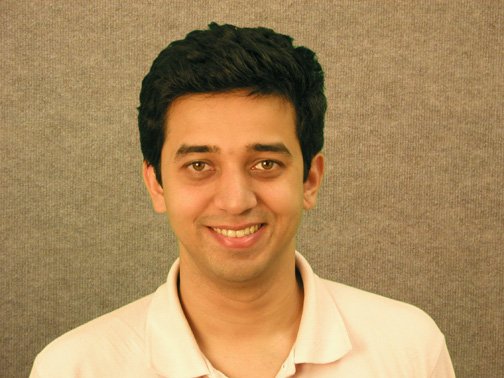 Ph.D., University of California at Berkeley, 2003.
Scientific Director, Max Planck Institute for Software Systems
Computer Science Research at the Max Planck Society
Biographical Sketch Curriculum Vitae (pdf)
Office:
Max Planck Institute for Software Systems
Room 414
Paul Ehrlich Str. 26
67663 Kaiserslautern, Germany
Phone + 49 (631) 9303-8500
Email: rupak at m p i - s w s. org
Academics
My research interests are computer-aided verification and control of reactive, real-time, hybrid, and probabilistic systems, software verification and programming languages, logic, and automata theory.
Publications (by category) DBLP
I am teaching Complexity Theory in Winter 2016.
Previous Courses: Foundations of cyber-physical systems in Winter 2014.
Current Post-Docs Rayna Dimitrova Samira Farahani Marko Horvat Vinayak Prabhu Anne-Kathrin Schmuck Sadegh Soudjani
Current Students Ivan Gavran Johannes Kloos Kaushik Mallik Filip Niksic
Research Tools
BugAssist: An Eclipse plugin to localize program errors
Splat: A test generator for C programs.
BLAST Blast 2.0 has been released. Here are the SPIN 2005 tutorial slides on Blast.
Organization
Graduated Students and Postdocs
Manav Mital (MS): Now at Instart Logic
Michael Emmi: Now at Bell Labs
Rafit Izhak-Ratzin
Pierre Ganty (PhD, ULB, Belgium): Now at IMDEA Software
Roman Manevich (PhD, Tel-Aviv, Israel): Now at Ben-Gurion University
K.C. Shashidhar (PhD, KU Leuven): Now at Mathworks
Shahram Esmaeilsabzali (PhD, U. Waterloo): Now at Waterloo
Majid Zamani: Now at TU Munich
Indranil Saha: Now at IIT Kanpur
Dmitry Chistikov: Now at Oxford
Zilong Wang: Now at Huawei
Personal
---
Rupak Majumdar, Thursday, 03-Nov-2016 00:51:49 MET